The Future of Furniture – Burnley College students praised for driving the industry forward
Burnley College Students have been praised after sharing their passion for creating furniture with Radio Lancashire – as they show-off their unrivalled skills and talents at their annual furniture showcase.
The talented students whose work was chosen to be exhibited are studying a variety of courses at Burnley College including A Levels, Advanced level industry specific qualifications and HNC/HND university courses – in disciplines such as Design Technology, Furniture Making and Upholstery.
After weeks of hard work, dedication and support from their industry-experienced expert Tutors, the talented students, Prudence Greenwood, Lee Plane, Tom Selvin and Rebecca Egerton-Jones produced incredible pieces of hand-crafted furniture.
Radio Lancashire interviewed the students at the showcase as they shared how incredible and fulfilling the course has been for them and all the exciting new skills they have gained, with thousands of listeners from across Lancashire.
The showcase is taking place at Charter Walk in Burnley Town Centre, just near Clintons, the card shop, until Friday 24 June.
Prudence, studying Advanced Level Upholstery says her future is definitely in furniture:
"I would love to continue to expand my skills at Burnley College Sixth Form Centre.
"My overall goal is to one day open up my own business selling my own handcrafted furniture."

Lee Plane, also studying Advanced Level Furniture making echoed her view:
"I would love to sell my own furniture. However, before I do any of that my priority is to gain enough industry experience in order to progress further so that one day I can run a successful business."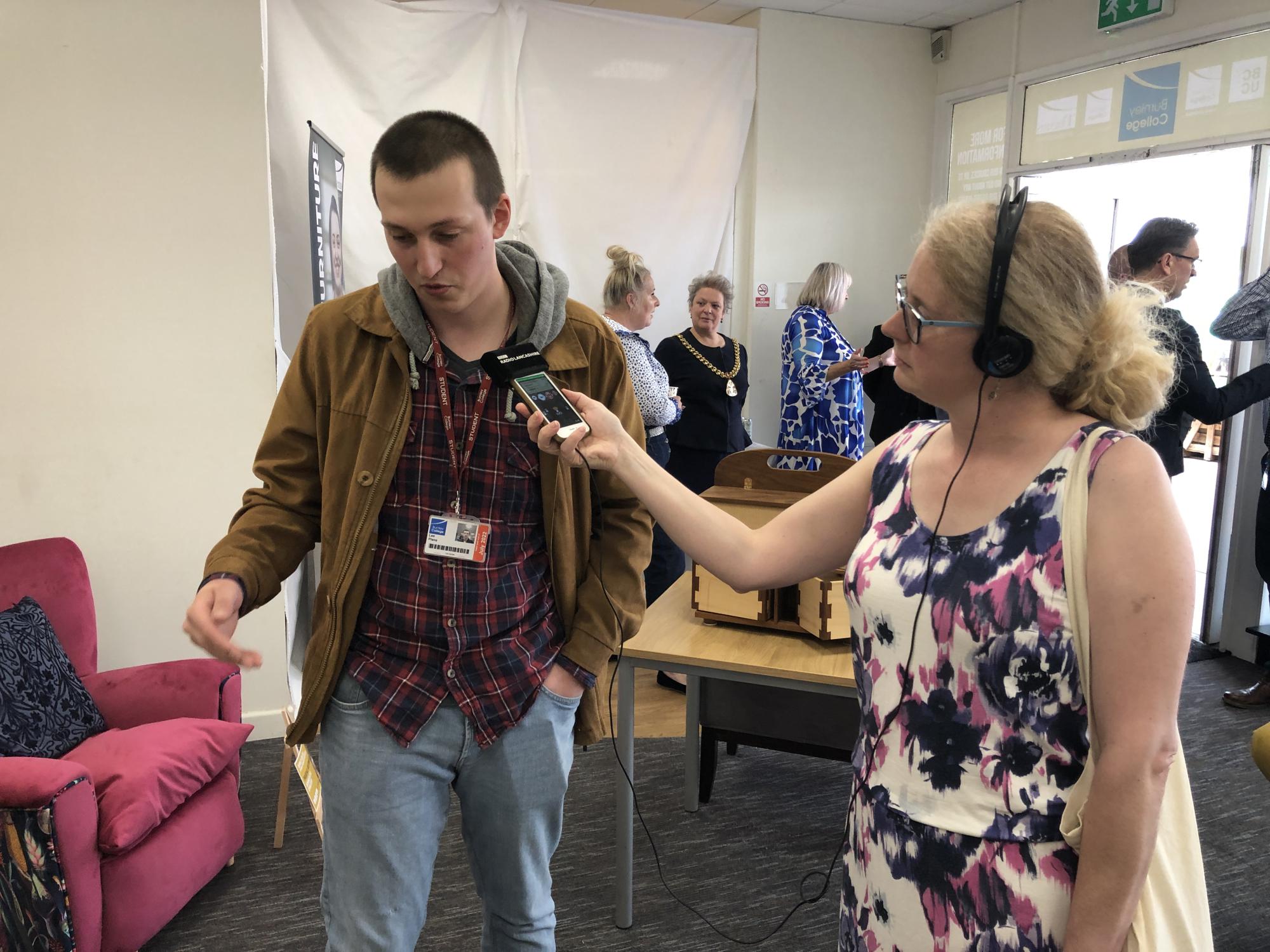 Each student got the opportunity to share the process of production for each piece they had created to the Mayor of Burnley, Cllr Cosima Towneley and were interviewed by Claire Ashmore from Radio Lancashire.
The Mayor, who is passionate about local industry, quizzed the students in-depth about their pieces.
She said:
"It is incredible how the process begins with just a few pieces of material which inspires them to create something so beautiful.
"Burnley is the perfect place for that to happen. We have the landscape to inspire you and we have the wood the make whatever you can imagine."

She continued:
"I think it is so important to have this kind of talent in East Lancashire and I believe in order to grow in this Industry we need to have more artisan connections and be able to continue to inspire people to craft amazing pieces of furniture."
David Lord, Head of Construction at Burnley College Sixth Form Centre added:
"We're so proud of our amazing students and we want to give them every opportunity to demonstrate their skills and show their creations on as wide a stage as possible. Whatever career you've chosen, Burnley College has the links and the facilities to help you bring that career to life." 
Listen again to the piece on Radio Lancashire here: https://www.bbc.co.uk/sounds/play/p0c8n9kw – it starts at 1 hr 20 mins in.
Are you passionate about studying furniture production and have the flair for design? Are you looking for a College that invests in your future and is there to support you on your journey, while providing you with the best industry links? Find out more at burnley.ac.uk or speak to our amazing Student Services on 01282 733333 or email [email protected]