Good Kompany – Students' exclusive audience with Burnley FC Head Coach and Chairman
Burnley College Students turned sports journalists for the afternoon as they had the opportunity to quiz Burnley FC's Manager and Chairman.
Manager Vincent Kompany and Chairman Alan Pace faced questions from Burnley College Students in the College's Performance Theatre. Students and Themis Apprentices all with a passion for football were eager to put their questions to the pair as part of an intimate audience of just 80 learners.
It was the first time either Kompany or Pace have guested at an event and their first time taking questions outside a Turf Moor press conference.
Growing Burnley FC's unique partnership with Burnley College as the 'College Clarets', the session was a great opportunity to forge an even closer relationship with the Championship club.
For two Burnley College students it was the chance of a lifetime as they teamed up to host the event. Advanced Level Creative Media students Ben Livingstone, 17, and Harrison Pearce, 17, both from Burnley, anchored the discussions, putting Vincent and Alan through their paces with prepared questions, before inviting the audience to quiz the special guests further.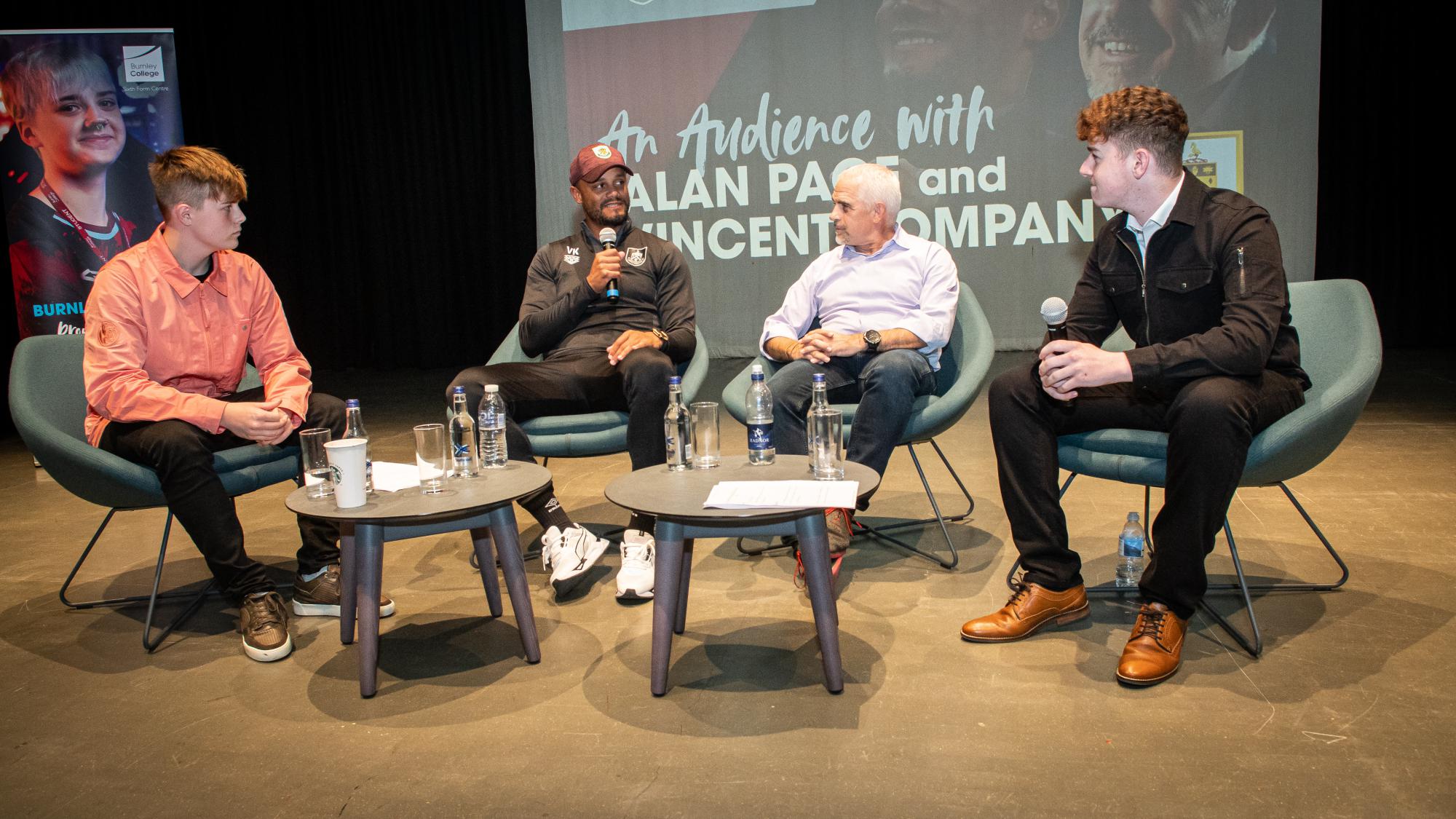 Harrison said he wasn't nervous until he met the guests of honour just before the event:
"We didn't have the chance to worry about it too much until we walked into the room before the question-and-answer session to meet them. As soon as I saw them, I think I went bright red! But it went well. I really enjoyed it and it's been a great experience."
Ben added:
"Once we got into it, the conversation flowed and they answered all our questions very well. It's been a brilliant event to host and a great opportunity to develop my skills."
Former Manchester City Captain Kompany offered valuable insights into what it takes to be the best – tips that the learners could also adopt to help them stand out from the crowd. When asked about the teammates he most admired as a player, he explained the common thread that runs through all players who compete on the world stage:
"Those who have been most successful, whether they are at their peak or at their lowest point, they all demonstrate consistency. Being on time for training and getting the basics right, whether they are injured or there is something happening in their lives, keeping in your routine keeps you on track."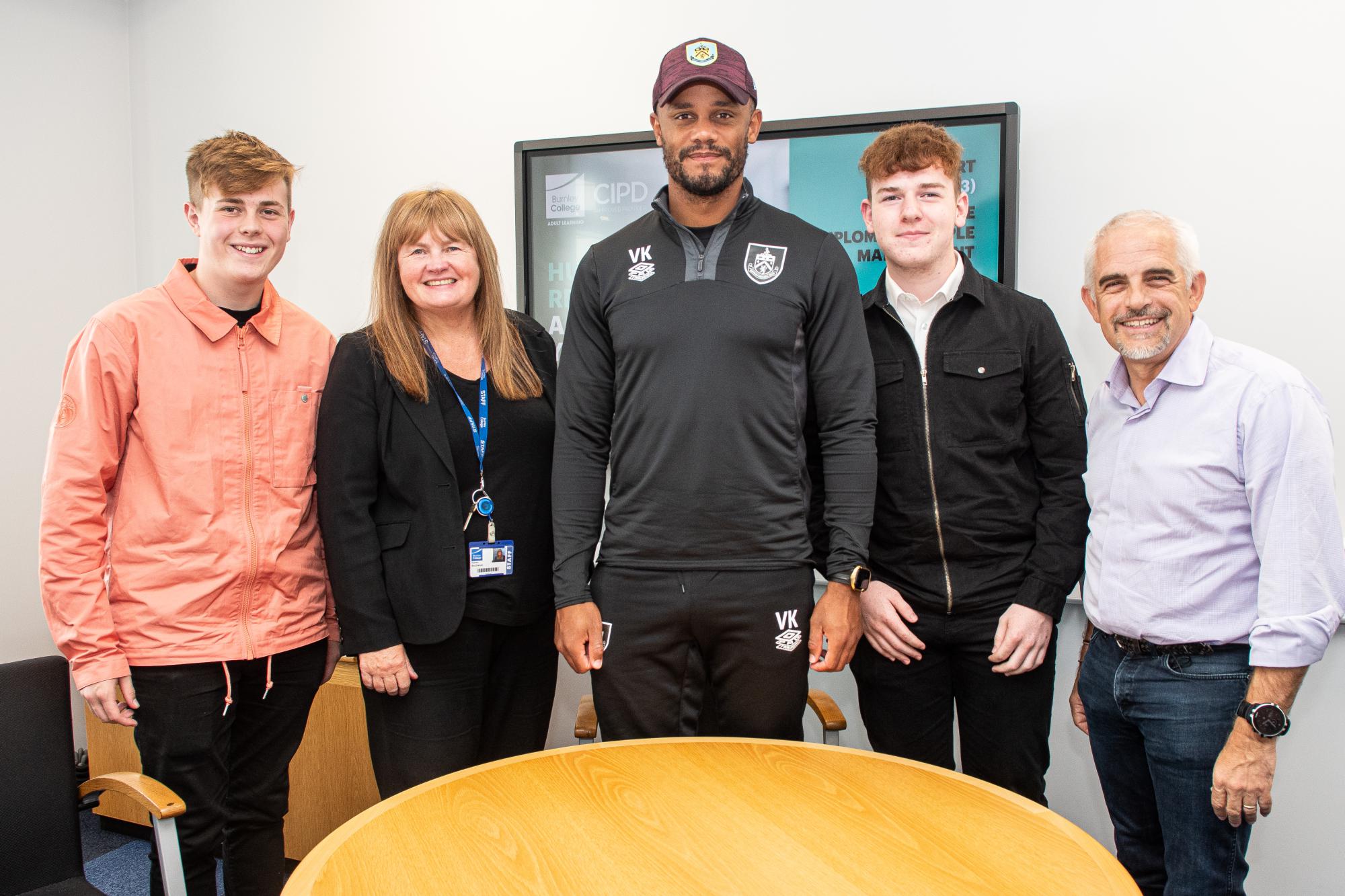 He also commented on his own education, saying his family encouraged him to get his qualifications, which helped him deal with the toughest times in his life:
"My Mum warned me not to focus on football saying 'what if you get injured?' I completed A Levels in Belgium and when I came to Manchester I achieved a Masters Degree in Business.
"I lost my Mum when I was 20 and at the same time my sister had cancer and I got injured and was out for a long time.  It was a tough period and was a reality check for me. Although there are people who have far worse luck than I do, that time in my life was my biggest mental challenge."
Pace acknowledged the growing role that community plays, hinting that more opportunities for young people to work with the club are just around the corner:
"We need to always be doing more and will be offering more internships and we will continue to engage further with the community."
Kompany likened the development of young players to the journey of a College student, saying that if you show you have the right mindset, you will go far:
"All of you young people in the room are going to go through the same; if you've got the right work-rate, the right attitude and the tools to improve, you're going to get somewhere because someone will take a chance on you, they can see it in you."
Pace added that he was impressed by our Students and that they both very much enjoyed the event:
"I'm pleased we could collaborate with Burnley College, it was fantastic to go and meet some of the students and staff.
"The event highlights our positive, ongoing relationship with the college, and it was great to see the students had taken the time to plan and ask well thought out questions.
"Both Vincent and I enjoyed the opportunity to chat and offer an insight into the Club, our plans and the industry as a whole. We hope events such as this inspire the students as they continue their media studies."
Burnley College Principal Karen Buchanan said welcoming the Clarets to College was inspirational for Students:
"We were delighted to welcome Alan and Vincent to answer some interesting and probing questions from our learners.

"The relationship between Burnley Football Club and the College is going from strength to strength thanks to many innovative events and partnerships, including the College Clarets Turf Moor Takeover and our elite talent pipeline for Burnley FC Women.

"All our students and staff wish the Clarets every success in the coming season and look forward to welcoming both Vincent and Alan back soon."
Are you ready to study at a College which partners with the Clarets at the highest level? Which takes learning out of the classroom and offers unrivalled opportunities for self-development, learning from top-level guests?
Take a look at the varied courses, designed with vital input from industry-leaders: https://www.burnley.ac.uk/search
Places are available to start A Level, Vocational or T Level studies – or a Themis Apprenticeship – in September after GCSEs or applications open soon to enrol in 2023.