Caitlin Paramor – Burnley College Dance alumni shares her success story
Caitlin Paramor is a Burnley College Sixth Form Centre Dance Alumni.
After taking a gap year to focus on building her experience in the industry, Caitlin, 19, from Hebden Bridge, has now been accepted by two of the top contemporary dance schools in the country and remains on the reserve list for the other.
At Burnley College Sixth Form Centre we're here to support you as you write YOUR OWN success story. Caitlin shares hers:
"Dance was always something that deeply intrigued me. I had done it occasionally as I grew up but it was a visit to Burnley College where the passion and dedication of the fantastic Tutors sparked the desire in me to take dance seriously – and make it my future."
I chose Burnley College because of the wide range of subject choices, the enthusiasm of the Tutors who worked there and in their incredible theatre facilities. I felt that there was a friendly vibe and the College wanted your experience to be fun, supportive and to allow you to achieve your goals.
Covid 19 caused many challenges during my time at Burnley College – but the dedication of my Tutors meant everyone rapidly adapted and we were all able to support and give encouragement online to each other.
My Tutor, Sammy Allen made sure her door was open for me to ask questions and to give me support. She couldn't have worked harder for any of her students; the energy and passion that she brings to every aspect of the course made me excited and take a more serious interest in the subject.
I took a gap year because I wanted to spend my time exploring the dance opportunities around me and see how much improvement I could manage. My time at Burnley College on the Dance A-level course taught me to not give up and to keep going. There were so many times that I was rejected from projects or auditions but I kept the determination to keep going and it really paid off.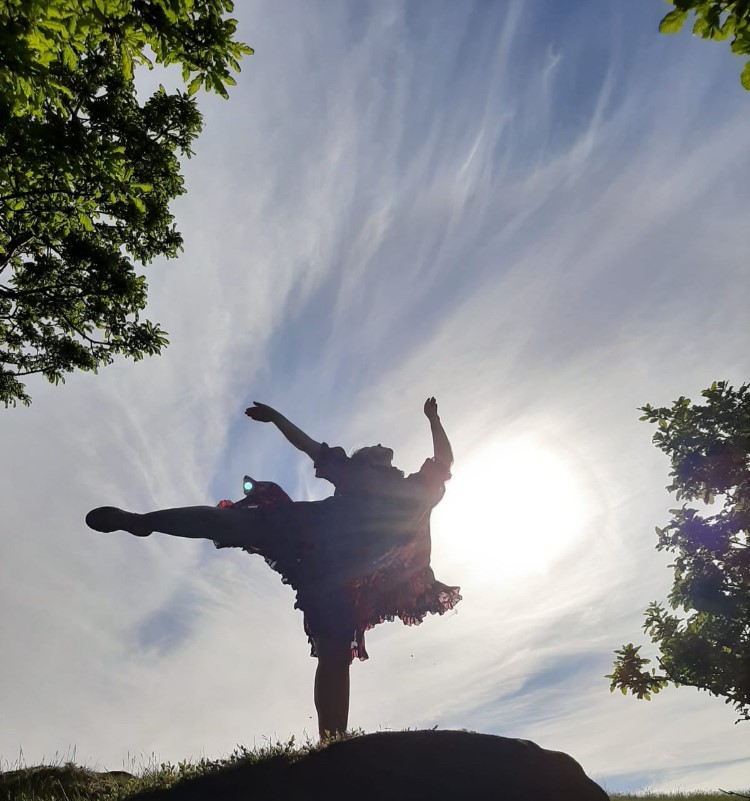 I first auditioned for Northern School of Contemporary Dance as I was finishing Burnley College. I was rejected from their foundation year, but after encouragement from Sammy to keep going I threw myself into every piece of training I could find and have had a fantastic year of exploration and adventure which wouldn't have been possible without the spark that the dance department at Burnley College ignited in me.
After auditioning for the second time I have received offers from Northern School of Contemporary Dance, London Contemporary Dance School, The Place and Trinity Laban for their full three year BA (Hons) courses, alongside a variety of university options.
My time at Burnley College taught me to really find the confidence in myself to just go for things; do a professional class, audition for that school, teach your own class, create a solo.
As someone who came to dance much later in life to many who go on to be professionals, I thought I must have missed my chance. Burnley College Sixth Form changed all of that – the way both the theory and practical Dance A -level course is taught made me certain that I had to follow my passion despite what others may think.
I have been able to do things I never thought I would – I have performed alongside professional dancers, I have taken part in projects that were filmed for TV, I have helped choreograph pieces with professionals, I have been able to go to London for myriad auditions and I have explored the cities around me. I have been able to find confidence and trust in myself.
I would say to someone like myself 10 years ago that you don't need to stress about what you think is going to happen. I think that in the midst of ambition and trying to achieve goals you can lose the actual reason you started doing what you love in the first place.
I know it sounds corny, but it's true, don't be afraid to fail. I have done so many auditions where I messed up and didn't get in or where I didn't give that idea to a group or didn't share that video of me dancing for fear of judgement and while I don't think back with irritation of what I could have done, I do think 'what could have happened if I just went for it'?
Do you have a passion for dance or any other subject and need help in realising your potential? Burnley College's exceptional tutors and facilities could help you achieve your dream. Go to burnley.ac.uk/case-studies to see more inspiration success stories.