Burnley College Students in the driving seat for Esports Careers
Autosport Magazine has visited Burnley College to find out how Students take full control of their future when it comes to careers in Esports.
Thousands of pounds have recently been spent installing two industry-standard Formula One racing rigs to give Esports Students the edge, adding a second suite to the impressive existing facilities.
Autosport Magazine reporter Megan White chose Burnley College due to its positioning as one of the leading Colleges in the UK for Esports, interviewing Students, Esports team members and our expert Tutors for their upcoming magazine feature.
The newly-installed rigs include a Moza R9 direct-drive wheel, Moza load-cell pedals and the highest spec GT Omega Cockpit.
The wheels and pedals, worth more than £2,000 alone, also offer "force feedback" – motors which pull the wheel around in your hand as the road surface changes – exactly what you would feel if you were driving in a real F1 car.
It's with the help of SimStaff, Williams and in particular Burnley Football Club who have paid for the physical rigs which run on the College's cutting-edge PCs.
It puts Burnley College Sixth Form Centre way ahead of the pack when it comes to creating an industry defining qualification within the multi-billion dollar Esports industry.
Jac Cowie, 18, from Hapton who is studying Advanced Vocational Exports finished in 6th place in the Williams Esports Winter Cup. He said:
It's a whole new world – and it's going to make a huge difference to my driving.
Up until six months ago I always raced using a controller. Having a rig like this makes you think about the race in a totally different way.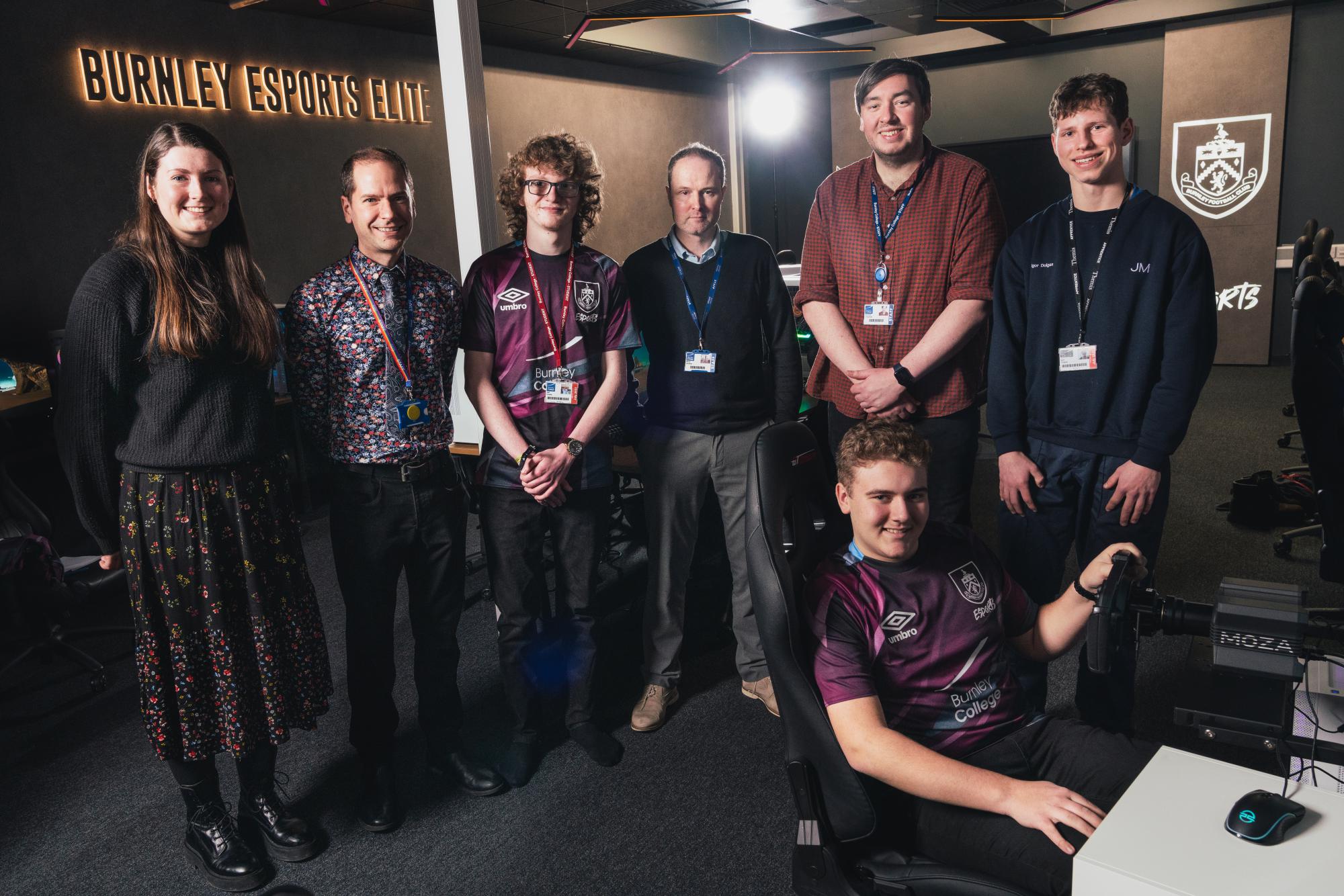 One person who agrees with that is Mark Webber, who prior to becoming Composite Engineering Tutor at Burnley College was in the F1 Ferrari Team.
He says simulator rigs have been a big part of the professional sport of Formula 1 for almost 20 years:
"In around 2005 you started to see drivers getting this kind of equipment installed in their own homes.
"One of the biggest advantages is you get to try out lots of different set-ups, brakes, suspension, tyres etc, before your wheels even touch the track in real life.
"The courses in this simulator are accurate within such a tight tolerance it's a great way to familiarise yourself with the track ahead of time."
Dave Easton, Programme Leader for Games, Esports and Media at Burnley College has been a home-racer for more than a decade and has his own rig.
It's event management, it's digital media, it's podcasting, it's nutrition, it's psychology, it's marketing, it's almost limitless. This one Esports course can open the door to so many career options.
Andrew Chapman, Advanced Vocational Esports Course Leader at Burnley College says it's the way Esports brings people together which inspires him:
"It's about removing barriers to access. This kind of equipment is out of the reach of most students', and most parents' budgets. It's thousands of pounds.
"Anyone with a talent for Esports is welcome to come and try out for a team – you don't have to be on an Esports vocational course.
"We have Students from throughout the College: media students, A Levels students, Esports, games design, but also engineering students, plasterers, everyone.
"That cross communication between courses is incredible. It brings together Students who may never come across each other in day-to-day classes – and combine their skills to create something really special.
"When it comes to something as technical as racing that's vital. Now while you're concentrating on your driving, you know you have a team of engineers making sure you've got the best set up for the track, while your social media experts are getting you the follows and likes you need to build you career."
Read Megan's fantastic piece in Autosport here: https://www.autosport.com/general/news/the-college-breaking-down-barriers-to-motorsport/10433704/
Could you be the next motorsport hero? Do you dream of being an Esports champion? Do you have a passion for event management, social media and cutting-edge technology? Visit our world class facilities at the next Burnley College Open Evening – Tuesday 14 March.
Learn more: https://www.burnley.ac.uk/whats-on/events/burnley-college-sixth-form-centre-open-evening-14-mar-2023/