Burnley College Remembers…
Burnley College staff have been sharing their memories of the Queen after Her Royal Highness passed away aged 96 following her 70-year reign.
Queen Elizabeth II visited Burnley in 2012 with The Duke of Edinburgh Prince Phillip and the then Prince of Wales, Prince Charles, now King Charles III.
HRH visited East Lancashire as part of her tour celebrating her Diamond Jubilee. Thousands lined the streets and she praised the town for its "astounding warmth."
The Queen and Prince Phillip then visited Burnley College, spoke to staff and students and enjoyed a tour of the campus, stopping to take in the work of a number of art students.
Principal of Burnley College Karen Buchanan says the memory will stay with her for a long time:
"I remember the visit so vividly. It was such a special day.
"First of all two guards arrived in the full regalia with guns who stood either side of the car park entrance.
"We stood in line to meet her, Vice Chancellor of UCLan, Malcolm McVicar and his wife, the then Principal of Burnley College Hugh Bramwell, Vice Chancellors Julie Derwent and Ken Collins and me on the end as Vice Principal of Burnley College.
"She was joined by her husband, the Duke of Edinburgh, Prince Phillip who was first out of the car and keen to greet the dignitaries and crowds.
"What stayed with me the most was when the Queen moved down the line and shook our hands, she was so smiley – nothing overwhelmed her – she didn't rush, she took in her surroundings calmly.
"We were so proud to be able to give Her Majesty a tour of our fabulous facilities and the balconies of the atrium were lined with students and staff eager to get a glimpse of her.
"She also enjoyed the chance to experience the art work of a number of students who were exhibiting their art in the atrium and was very complimentary of their skills.
"She took her time to smile and wave to everyone. We still display the photograph she signed in the boardroom – it was such a special event.
"Everyone one at the College passes on their deepest sympathy to King Charles III, his sons and their families at what must be an extremely emotional time for them all."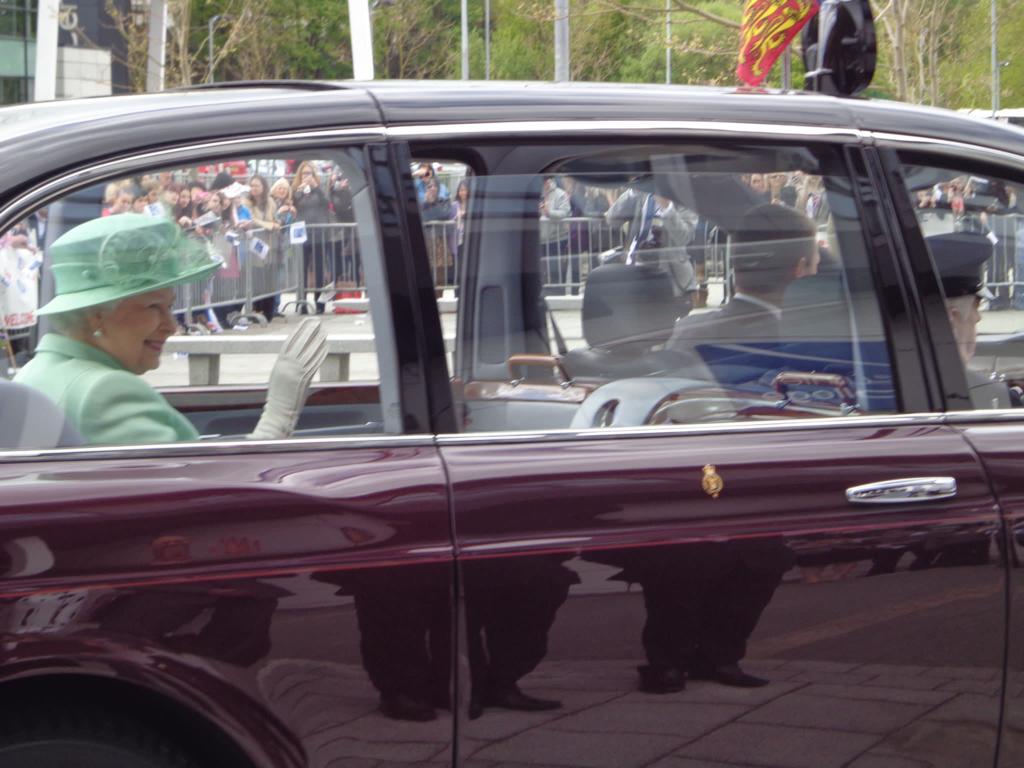 Simone Lomas, Head of Administration at the College was there and has amazing memories of the day.
"She was so graceful. It was a real honour to be chosen to meet her.
"The welcome she received in the College was incredible too. Students and Staff lined the atrium to get a glimpse of her.
"She was really interested in speaking to as many people as she could and it was such an honour for our art Students to have their work personally inspected by the Queen.
"It was an amazing moment that will stay with me forever."
Burnley College also sent a special representative to Buckingham Palace to mark its respect for the passing of the Queen. Lee Mulligan, Lecturer in Business and Professional Studies travelled down to London to place a wreath.
He says it was a very sombre moment:
"It was truly overwhelming. The sheer number of tributes and the blanket of flowers which lined the streets outside the Palace was breath-taking."