Sir Keir Starmer: "Burnley College is so inspiring. The energy and enthusiasm is just as I remember." Labour Party Leader praises College on his second visit
The Leader of the Opposition was welcomed back to the College following his visit a year ago. This time he was shown Fitness Evolution as he learned how we provide young people with opportunities through sport and leisure.
"It's my second visit to Burnley College, and the level of energy and enthusiasm is just how I remember it. It feels like a really great place to come and study, which is why this college is so inspiring."

He sat down with our A Level and Advanced Level Vocational Students to discuss their experiences and hear how sport and a real sense of belonging at Burnley College benefits them. Additional topics including transport and finance were also covered as A Level Politics Student Josh Pease (18), from Burnley, took the opportunity to ask Sir Keir what his party would do to support students with their finances.
Josh, who studies A Level Politics, Sociology and English Language said:
 "It was inspiring to meet and speak to Keir, a person with such influence in parliament to discuss topics such as financial aid for students and increasing opportunities for students in the local area. It was an uplifting to hear that Keir is taking our comments on board and trying to resolve these issues."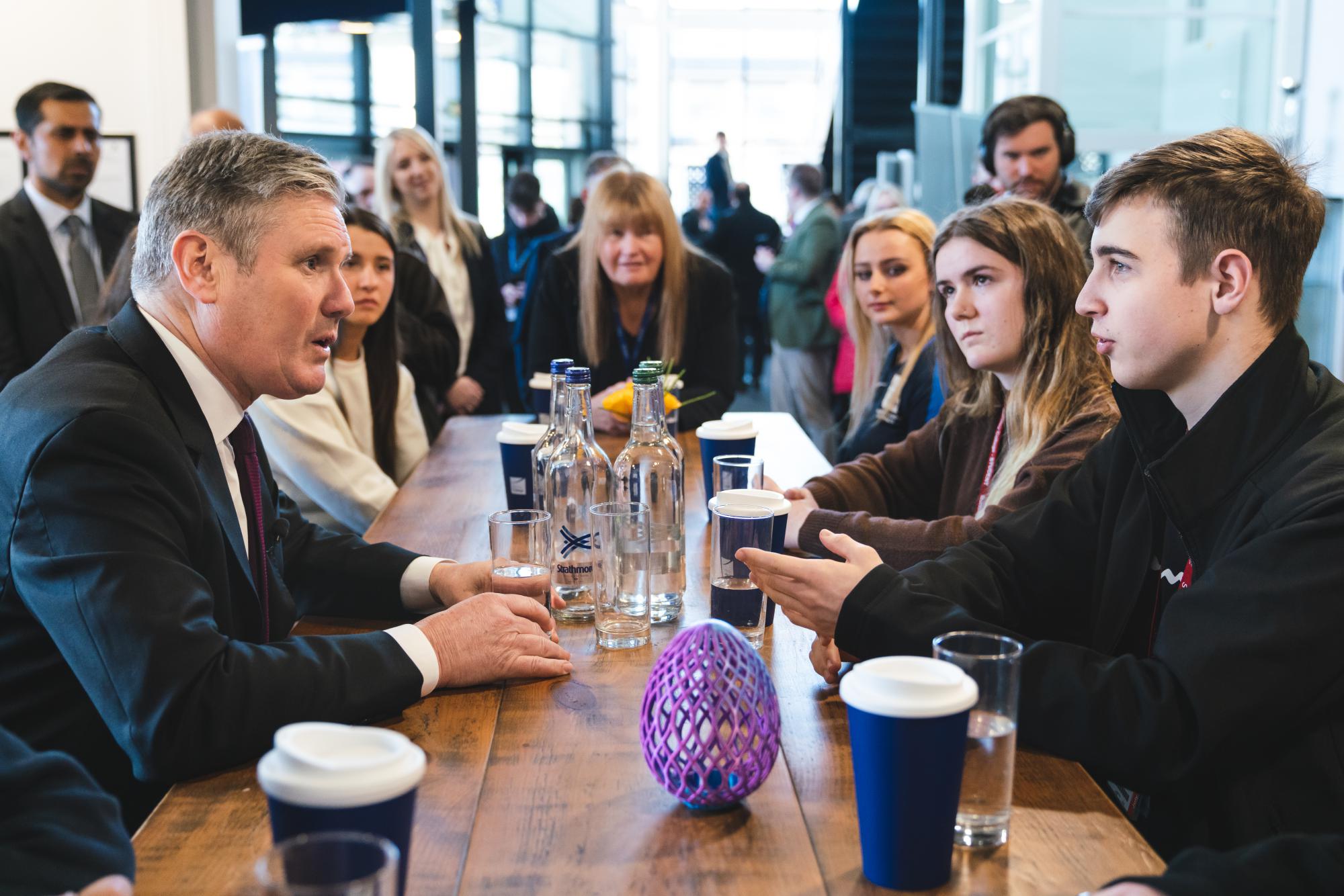 "Meeting some of the students and hearing their career plans, it's clear how important sport is to their overall development. They know how lucky they are to have access to the first-class facilities at their disposal and are clearly making the most of it!

Benji Crampton (17) from Burnley, a former Unity College pupil who studies Advanced Level Uniformed Services and is a Student Governor at College, added:
"It was enlightening to meet Keir and shed light on topics that need covering, and to discuss issues he may be able tackle in the local area."
The tables were turned as three of our Advanced Level Creative Media Students were given the opportunity to host a private interview with Sir Keir, quizzing him on important topics such as the NHS and support for low income families. Students involved were former Alder Grange School pupil Ruby Bromley (17), from Rawtenstall, who was in front of the camera, with former West Craven High School pupil Victoria Whiteside (18), from Earby, and former Todmorden High School pupil Heather Dowson (16), from Hebden Bridge, behind the camera, supported by Tutors.
Victoria said the morning will be memorable for a long time: "It's been a really good experience and a brilliant opportunity. Sir Keir is very friendly, a nice person and I am happy that he took the time to come and visit us."
Heather added: "I feel so lucky to have had such an exciting new experience. Keir was very friendly and spoke to me on a personal level. I felt like he genuinely cared."
"It wasn't just the facilities I was impressed by. Ruby, Victoria and Heather gave me a run for my money in our interview, covering a variety of topics. I look forward to watching all three of their careers blossom from afar, and will no doubt see others following in their footsteps on my next visit."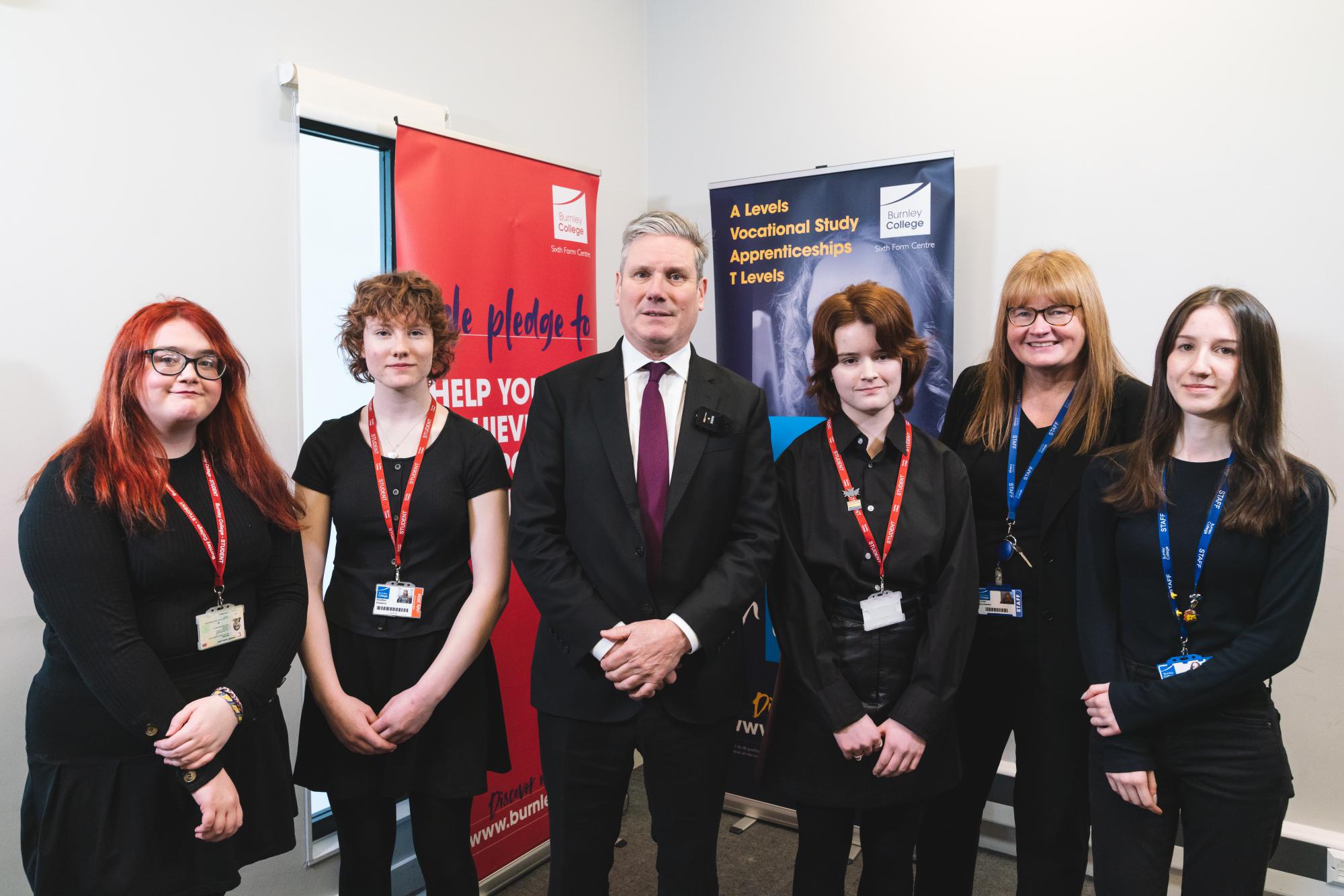 Making the most of the warm spring day, Sir Keir headed to the 3G pitches to join Sports Students and Elite Athletes who compete at national and international levels alongside their academic studies. He chatted to those who are passionate about starting their own businesses in sport or who want to pursue a career in professional sport.
Sir Keir was also shown the College's state-of-the-art Cryotherapy Suite, Environmental Chamber and High Performance Gym, which are all used by Elite Athletes when training to compete a high level.
Principal Karen Buchanan said that she was delighted to show him more of the College's impressive Campus:
"Sir Keir was just as impressed as he was on his first visit to our amazing Campus last year. On this visit, the focus was very much on the sports and fitness facilities we have developed through continual investment and how they can really make a difference to the lives of our learners, as well as visitors from across the region.

"He took time to engage with our Elite Athletes, our A Level and Advanced Level Students, taking a real interest in their plans for university study and successful careers, and sharing his own experiences with them.
"We're proud to be able to attract such high-profile visitors to College and help to put Burnley on the map."
Burnley College offers exceptional learning opportunities for everyone, including A Levels and Vocational Study programmes, T Levels, Themis Apprenticeships, Burnley College University Courses, Adult Learning programmes, professional business training through North West Business Training and the very latest sport and fitness programmes at Fitness Evolution.