Podium position for three Burnley College Students at F1 Esports competition
A trio of Burnley College Students have finished in the top three in the final of a Formula 1 Williams "Sim Racing" Competition.
The event took place at the prestigious Williams Esports Lounge at the racing team's base in Oxfordshire and the teams got to meet up with F1 and Esports experts from the Williams Team.
The competition sees drivers and their teams go head-to-head on a virtual course using cutting-edge simulator set-ups which closely replicate the exact experience of driving an F1 car.
T Level Engineering Student Ethan Willis and Advanced Vocational Esports Students Jac Cowie and Freddie Schofield travelled down to compete against nine other colleges and professional Esports drivers.
Ethan, 17, a former pupil at St Augustine's RC High School, and Jac, 19, a former pupil at Shuttleworth College, both from Burnley, took the role of drivers after building up their skills in intense practice session using the state-of-the-art F1 racing simulation suite on Burnley College's £110 million Campus.
Freddie, 19, from Clitheroe, was strategy coach, supporting his team-mates to ensure they remained calm in the competitive environment and developing strategies based on how their opponents were racing.
Andrew Chapman, Creative Arts and Media Tutor, expressed how proud he and his colleagues are:
The dedication these students have shown over the past six months has been exceptional. Finishing on the podium in such a competitive field is testament to all their hard work and leaving with a medal is always great.
"What's been really important, too, is seeing just how much this experience will help them grow as professionals working within the vast Esports industry.
"Learning new techniques, experiencing different tracks and transitioning to different equipment is never easy, but Ethan, Jac and Freddie have managed it with great confidence.
"It's always rewarding as Tutors to see your Students succeed, and I'm sure they will make it to the very top in their chosen careers."
Jac, thanked his Tutors for their support, adding how Burnley College has provided incredible opportunities which have impacted on his chosen career journey: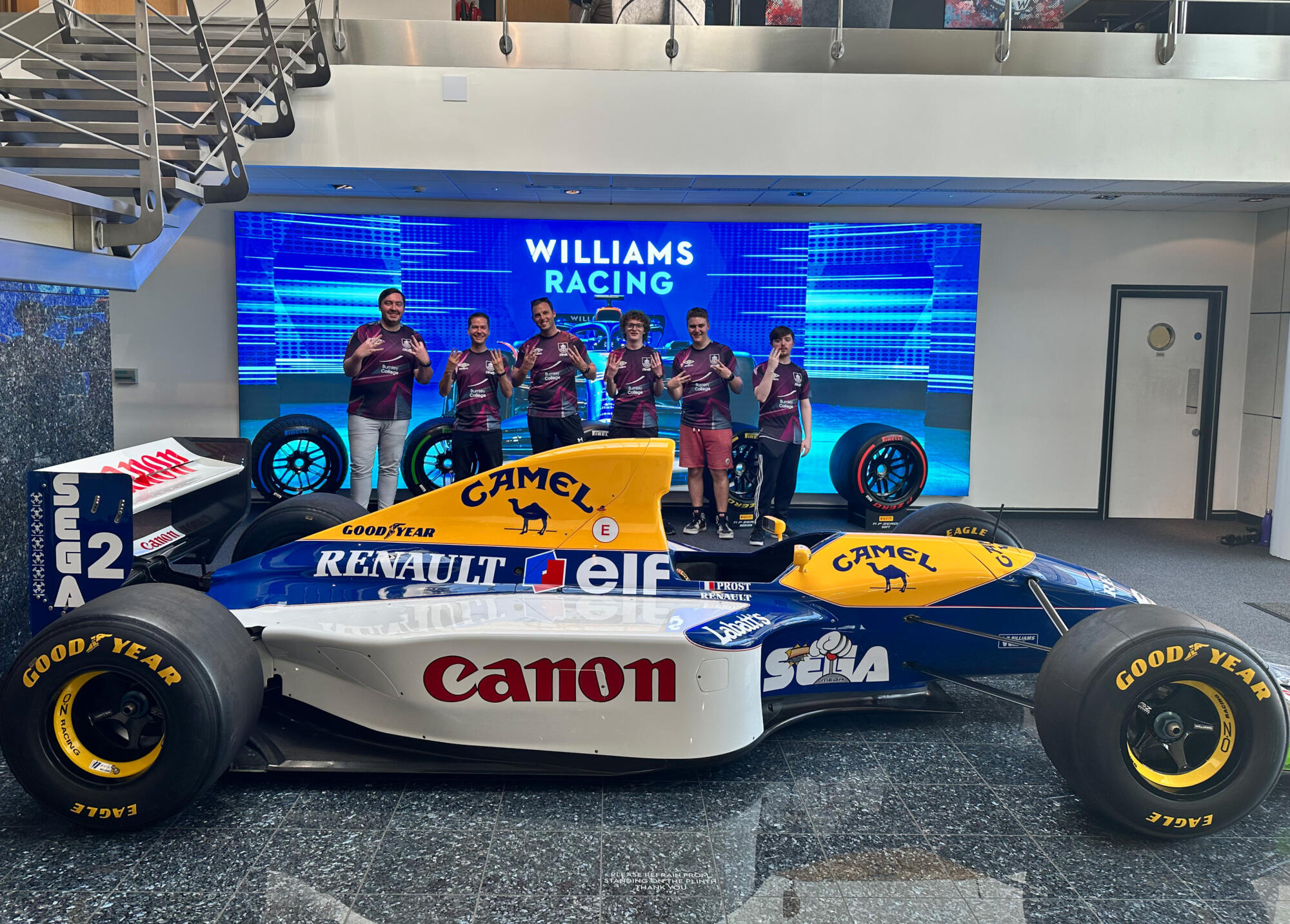 Esports is an industry I'm passionate about!

Burnley College has literally helped to catapult me into a real career in the Esports industry.

"After I have completed my course and attained my qualification, I am looking forward to diving straight into the deep end of industry as a freelance sim racing engineer for SimStaff, the global digital Motorsport and Esports agency."
Freddie is progressing to Staffordshire University to study Esports, focusing on the business, broadcasting and events. Ethan has set his sights on becoming a real-world Formula 1 Engineer as he continues his T level in Engineering Design Development.
Burnley College is one of the leading Colleges in the UK for Esports and has invested heavily in the very latest technology, including two cutting-edge F1 Simulation rigs.
Esports is one of the fastest growing entertainment industries in the world, estimated to be worth more than $2 billion dollars in 2024.
Burnley College's Esports courses focus on empowering Students with multiple skills which will be of use throughout the industry and transferable into many others, including event planning, team management, analysis and statistics, nutrition, broadcasting (or "shoutcasting" as it is known within Esports) and more, as well as allowing time for Students to compete in the games themselves.
Do you see yourself as part of a winning Esports team? Do you want to get involved in one of the fastest growing and most exciting tech-industries in the world? Do you want to learn at the Number 1 College in England*?
Learn more about our courses to begin your journey to becoming an Esports champion:
https://www.burnley.ac.uk/search/?st=esports
*for all 16-19 qualification levels as shown in the latest Government achievement tables